Stephen Wolfram recently did a neat blog post on personal analytics. One of the things he showed was his email over time, and you can pick out some interesting trends. So I decided to try it with my email.
Here's a plot of my sent mail over time: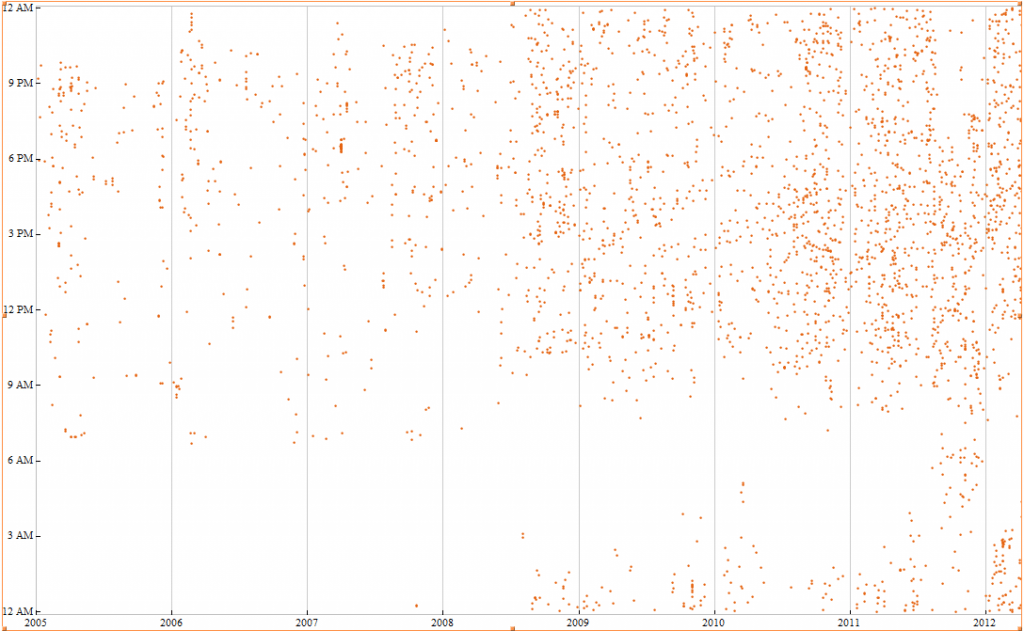 You can see most of my emails are sent during the afternoon and evening. I started going to Georgia Tech in 2008, so you can also see the effect Tech had on my sleep schedule.
Here's a plot of my recieved emails: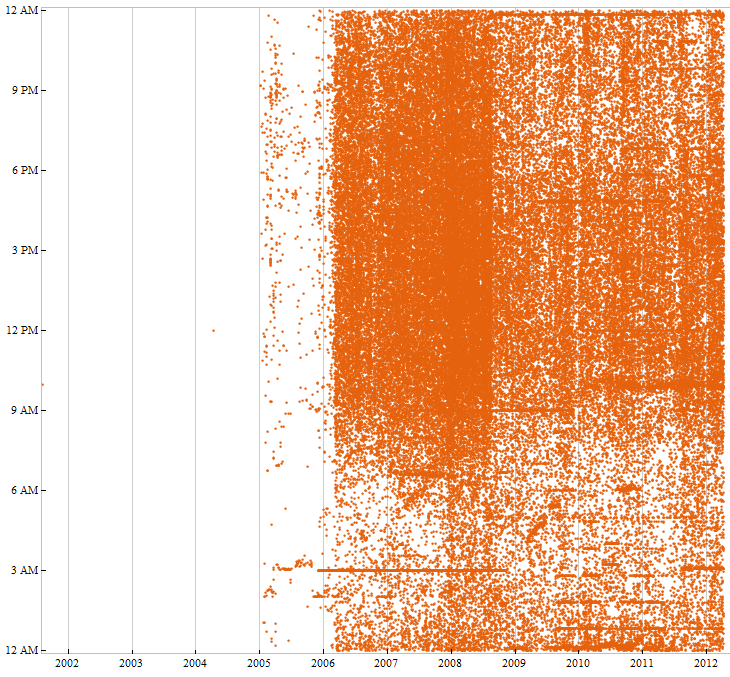 Clearly I receive way more emails than I send. There's a few interesting things here. First, The reason the plot goes out to 2002 is because I think there are some emails in my account that have a wrong date stamp. Not sure how that happened but it's definitely wrong, since this export is from Gmail. which didn't exist in 2002. The reason I got tons of emails during the day from 2006 to the end of 2008 is because I was on the Freecycle list for my town, which absolutely spammed me with emails. I actually looked through them for a little while, then filtered them to auto archive. Then I forgot about it for a while, and finally unsubscribed a little more than half way through 2008, which you can see as a definitive line. There are several horizontal lines that appear really early in the morning. That's because I use Google calendar to email myself reminders of things to do, and I schedule them at midnight through about 6am so that when I wake up in the morning, there's emails reminding me of what to do that day.
This is a plot of the average incoming and outgoing mail by month. Again, ignore the span at the front.

This is the time series per day of outgoing mail.
And here's the time series per day of incoming mail.

This is the daily distribution of incoming mail. Notice that it doesn't follow a curve within business hours like you might see at a regular office.

This is the daily distribution of outgoing mail. I think the fact that I have a smartphone now is partially responsible for the even-ish distribution here. Also, I apparently send tons of mail at like 3:45 am.
I don't really collect data on anything else I do, but doing this little analysis has kind of made me want to. My phone would be a great source for that, since I could look at my movement with GPS and activity with the accelerometer. And I bet I could get all kinds of interesting things from Facebook.